Once you've set up your MySQL database and installed WordPress, it's time to start creating your blog. WordPress is extremely flexible and makes it easy to get going. You don't need any special programming skills. You can go the simple route and just write and publish your blog. Or you can customize your blog and even turn it into a complete website.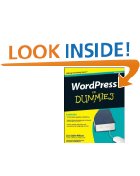 One book I found really helpful is WordPress For Dummies 2nd Edition
by Lisa Sabin-Wilson. It's a handy reference to the ins and outs of just about everything WordPress-related. If you purchase this book, be sure you get the second edition. It covers the latest upgrades to WordPress through version 2.7.x. The older version of the book has the "Dummies Guy" on the cover. The newer version is shown in the thumbnail at right. I had a little trouble finding the second edition on Amazon. All my searches took me to the first edition. The links on this page go to the second edition of the book on Amazon.
Unlike the the book Building a WordPress Blog People Want to Read
, which I mentioned in my May 8, 2009 post, Getting Started: Setting up MySQL, WordPress for Dummies, 2nd Edition follows the user interface of the most recent version of WordPress. At least at the time of this blog entry. WordPress 2.7 is the current version, but WordPress 2.8 is in beta and is available to those bleeding-edge folks who want to hammer on the up-and-coming version. I'm not in that category, so I haven't seen WordPress 2.8. I did, however, scan the list of features and bug fixes, and it doesn't look like the user interface is having a major overhaul.
With both books at my side, I was able to come up to speed with WordPress and be productive very quickly.